FINISHED
May 2015 - Mini Quest Semester
Part 2
Five (5) Sundays in May (3,10,17, 24,31)
Course: NCCA P8P2 - Counseling the Codependent, A Christian Perspective Utilizing Temperament
Course summary:
This is an in-depth course dealing with the over all topic of codependency; the so-call disease of the 'lost self'.It covers the origin of the problem, description of codependency, types of codependency, differential diagnosis of codependency, and methods of employing temperament therapy to each type.
Course Instructor: Dr. Tommy Snow
Flora of the Bible Mini Quest - CANCELLED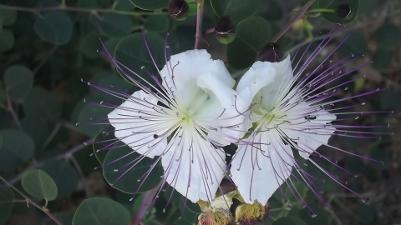 Capparis spinosa, the caper bush, also called Flinders rose,is a perennial plant that bears rounded, fleshy leaves and large white to pinkish-white flowers. The plant is best known for the edible flower buds (capers), often used as a seasoning, and the fruit (caper berries), both of which are usually consumed pickled.
May 2015 - Mini Quest Semester
Five (5) Sundays in May (3,10,17, 24,31)
Course: BI-MQ 101 -Flora of the Holy Land
Course summary:
This 5 week course looks at the fascinating role played by plants in the Bible, at the environmental wisdom of the ancient texts and at the contribution that plants of the area have made to human settlement and civilization.
Ancient peoples – Jews and Christians alike – depended on the soil of the Holy Land to survive. They had a deep knowledge about the plants around them. The Bible capitalizes on this knowledge by using more than 100 plants, often as metaphors that employ botanical characteristics to convey messages in a language common people would have understood.
This is a certificate course in partnership with the Jerusalem Botanical Gardens, Israel.
Course Instructor: Dr. Ed Bez, President of the Biblical Botanical Garden Society and Quest Bible Institute & Seminary, Oxford, Georgia USA