Meet your instructor: Dr. Ed Bez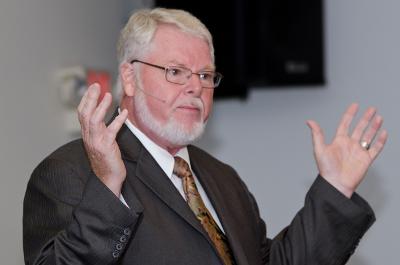 OT 311 the Minor Prophets
(2 credit hours)
Web: www.questbibleinstitute.org
Spring, 2016
INSTRUCTOR'S CONTACT INFO:
Dr. Ed Bez
Cell: 352-301-1445 Office: 770-786-7293 ooVoo: dredbez00100
Skype: dr.ed.bez E-mail: questbibleinstitute@yahoo.com
I. SCRIPTURAL FOUNDATION FOR THE COURSE
We also have the prophetic word made more sure, which you do well to heed as a light that shines in a dark place, until the day dawns and the morning star rises in your hearts; knowing this first, that no prophecy of Scripture is of any private interpretation, for prophecy never came by the will of man, but holy men of God spoke as they were moved by the Holy Spirit." (2 Peter 1:19-21)
COURSE SYLLABUS
II. COURSE DESCRIPTION
To survey the historical, social, and political background of the Hebrew prophets; their main themes, passages, and relevance to modern times. The course objective is to help each other toward a deeper knowledge of and greater appreciation for the Old Testament prophets and their place in the Judeo-Christian tradition.
III. PURPOSE & OBJECTIVES
To acquire the "big picture" of each of the 12 Minor Prophets--namely Hosea, Joel, Amos, Obadiah, Jonah, Micah, Nahum, Habakkuk, Zephaniah, Haggai, Zechariah, & Malachi by encouraging students to read each book several times to search inductively for the following components essential for properly interpreting individual passages: a) repeated elements or ideas which may be a clue to the literary structure (or natural outline); b) the basic content or message as a clue to the suggested purpose (or nature) of the Books.
Furthermore, another purpose of this course is to guide you through the Minor Prophets aiding you in not only reading and interpreting them but, applying them to your life.
The general objectives of the course include:
• Learn the content of the Minor Prophets
• Discern what we can learn about God through these books.
• Discern what we can learn about ourselves through these books.
• Develop a good understanding of the events and timeline of Israel's history.
• Provide a firm and encompassing big-picture view of Israel's history to aide in building and maturing our ability to effectively read and understand the Minor Prophets by learning the context from which the authors of those books lived.
• Learn methods and resources for more effective and deeper personal study of the Minor Prophets
In addition to these general outcomes, the course is structured so as to:
Increase the students' understanding of the historical background of the events, people, and places discussed in the Minor Prophets

Increase the students' ability to understand the literary features of the Minor Prophets, in order that they might understand and communicate the message and theology of this material more clearly.

Increase the students' skills of close reading and observation, particularly of biblical texts.

Increase the students' confidence in understanding, preaching, and teaching prophetic material.

Improve the students' exegetical skills, with particular reference to the prophetic texts. To this end, the course aims to improve students' facility with key exegetical tools and resources.



V. COURSE SCHEDULE/ Outline
Tentative Schedule:
April 14 - 798 BC – Jonah (see Nahum*)
Jonah as type of Jesus Christ and mercy to Repentant. Against Nineveh, with implications to all people. Cruelty of Assyrians.
April 21 - 796 BC - Amos
Day of the Lord. Against Israel, Judah, Benjamin and all nations. Oppression of the poor, sexual immorality, wanton luxury and corrupt laws.
April 28 - 796 – 719 - Hosea
Salvation. Against Israel (Ten Tribes of Israel). Adultery, drunkenness, idolatry, licentiousness
May 5 - 740 – 711 - Micah
The Eternal is a just Judge. Against Samaria, Jerusalem and All Nations. Lack of justice and oppression.
· April 14 - 711 - Nahum
Judgment on Nineveh and comfort to Israel. Against Assyrians, primarily city of Nineveh. Cruelty of Assyrians, overstepped boundaries.
May 12 - 626 - Habakkuk
God embraces Judah through destroying the Chaldeans. Against Babylon with implications for all people. Aggression, plunder, greed, graft, idolatry and inhumanity
May 19 - 626 - Zephaniah
God's indignation, Israel repents then God saves them. Against Judah, and ALL people, concerning the Day of the Lord. Spiritual fornication.
May 26 - 596 – 586 – Joel (see Obadiah*)
Day of the Lord. Against Israel and all people. Adultery, drunkenness, idolatry, licentiousness.
· May 26 - 590 - Obadiah
Day of the Lord, Edom's Destruction, Israel's restoration. Against Edom. Edom had continual violence toward Jacob.
June 2 - 520 - Haggai
The restoration Temple points to the Church. Concerning Zerubbabel, Joshua and the returned remnant. Neglect in building God's House, procrastination
June 2, 9 - 520 – 518 - Zechariah
The coming of God's Kingdom preceded by building of Temple. Concerning Zerubbabel, Joshua and the returned remnant. Joshua's filthy garments, lack of judgment, mercy and peace.
June 9 - c. 400 BC - Malachi
Be prepared for the Messenger that is to come. Concerning Israel and 'Israel of God' today (the church). Priests neglect duties, people chided for divorce, adultery, criticizing, robbing God of tithes.
VI. TEXTS
Required Texts:
1. Arnold, Bill T. & Bryan E. Beyer. Encountering the Old Testament: a Christian Survey. 2nd or 3rd Ed. Baker Books, 2008.
2. Bible. (You can use whatever translation you desire but it must contain both OT and NT.)
VII. READING SCHEDULE
April 14 – Arnold & Beyer, pp 443-445; 447-449
April 21 – Ibid. pp 435-439
April 28 - Ibid. pp 430-435
May 5 – Ibid. pp 445-447
May 12 – Ibid. pp 449-450
May 19 – Ibid. pp 451-452
May 26 - Ibid. pp 434-435; 442-443
June 2 – Ibid. pp 456-465
June 9 – Ibid. pp 463-465
June 16 – Review and Final Exam
June 17-18 – QBIS Commencement exercises 2015
VIII. PROCEDURES AND METHODS
A. Statement of Unity and Respect
At QBIs we desire to create an educational community which reflects the kind of community called for in Scripture. The New Testament is patently clear that:
(1) Love and unity among Christians are cardinal Christian virtues (Gal. 5:14-15; Col. 3:14) and are the most powerful evidence of the veracity of the gospel (Jn. 13:34-35; 17:21-23).
(2) In the body of Christ there is absolute equality regardless of gender, race, or social status (Gal. 3:28; Col. 3:11).
In view of these two principles, it is expected that all faculty, staff and students at QBIS will treat others in the community with respect and dignity.
B. Attendance
We will have one 1.5 hour lecture per week for ten weeks.
Because of the nature of this class, there will only two (2) absences allowed. To request an exception to this policy the student must make arrangements with instructor for missed class work. A professor is under no obligation to assist a student in making up assignments unless a student provides a legitimate reason for the absence (e.g., illness or family emergency).
When a foreseeable absence occurs, a student should consult with instructor in advance about classes that will be missed. To make an "A" in the class you must attend all scheduled classes and or have provided honest explanations for missing class. No academic credit can be issued if the student misses over three class sessions.
C. Class Participation and Interaction
Students will be graded on class participation, interaction, and discussions when appropriate. The class and student benefit from each other's questions, thoughts and interactions.
ON-LINE AVAILABILTY: A copy of the course syllabus, course handouts or additional readings will be available to the students at: www.questbibleinstitute.org
D. Methodology - Lecture & Discussions – 80% / 20%.
IX. COURSE REQUIREMENTS
B. Reading and Participation - I have assigned selected readings for this course. The readings are to be done before class so the student can be prepared to engage in meaningful class discussions. The internet interface only works as there is stimulating conversation, dialogue and input from the students.
C. Final exam - the student must have a visual understanding of the geography of the Bible; therefore mastering maps and charts that will be handed out will constitute the largest section in both exams.
D. Library - log 5 hours of study and research time in the QBIS library or by reading extra-textual materials at your disposal, e.g. local public library, personal ministerial library, or even a library of a local Bible institute or college.
X. GRADING
Your grade will be determined by the following percentages and basically follow the following scale:
A = 100% -93%
B = 92% - 84%
C = 83% - 77%
D = 76% - 70%
F = Below 70%. However, the instructor retains the right to adjust the grading scale, if necessary.
XI. GENERAL BIBLIOGRAPHY
General Resources: The Minor Prophets
Boadt, Lawrence. Reading the Old Testament: an introduction. (Paulist Press).
Written from a Catholic perspective.
Chisholm, Robert B., Jr. Handbook on the Prophets. (Grand Rapids: Baker Academic, 2002).
Craigie, Peter C. Twelve Prophets: Volume 1: Hosea, Joel, Amos, Obadiah, Jonah. (Westminster John Know Press, Louisville, 1984).
Efrid, James. The Old Testament Prophets: Then and Now (Valley Forge: Judson Press, 1982).
Feinberg, Charles Lee. The Minor Prophets. (Moody Press, Chicago, 1990).
A comprehensive commentary on all twelve of the Minor Prophets. Free of footnotes and devotional in style
Ferreiro, Alberto, ed. The Twelve Prophets (Ancient Christian Commentary on Scripture; Downers Grove, Ill.: Intervarsity, 2003).
Freeman, Hobart. An Introduction to the Old Testament Prophets. (Moody Press, Chicago, 1969).
Evangelical and full gospel perspective. Excellent scholarship but author was controversial in his "Faith" camp views latter in his life.
Hayford, Jack. Twelve Voices for Truth: confronting a falling world with hope. (Thomas Nelson, Nashville. 1995).
Full Gospel perspective
McComiskey, Thomas Edward. The Minor Prophets: An Exegetical and Expository Commentary. 3 vols. (Grand Rapids: Baker, 1993).
Ward, James & Christine. Preaching from the Prophets. (Abingdon Press: Nashville, 1995).
The bibliography is vast for the Minor Prophets. Consult your textbook for commentaries and resource materials. Also see especially John Glynn, Commentary & Reference Survey (Grand Rapids: Kregel, 2007), pp. 95- 109 for specific recommended commentaries on the Minor Prophets.